Morning to Night Essentials
3 teas to take you from morning to night, plus Tea Strainer with resting cup 85-90 CUPS
Get 3 teas to take you from morning to night, bundled with our star tea tool.
3 full-sized teas: a caffeinated energy boost to start your day, a digestive aid to soothe and comfort, and a chocolatey indulgence to satisfy your sweet tooth.
Tea Strainer with resting cup makes steeping mess-free and stylish. Allows full expansion of leaves for exceptional flavour.
Regular price
$87.80 CAD
Sale price
$79.95 CAD
Unit price
per
Sale
Sold out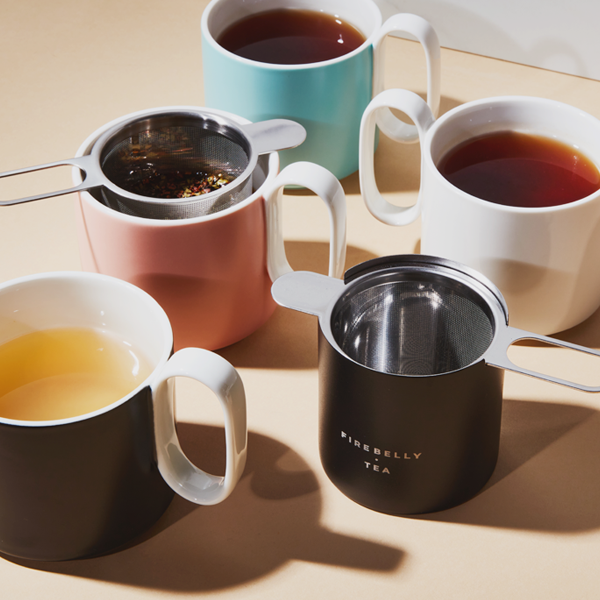 Collapsible content
The Details
The perfect cup awaits, no matter what you need throughout your day. Bundle a smooth caffeine boost for the morning, a helping hand for digestion and inflammation in the afternoon, and sweet chocolatey indulgence for the evening. Comes with our Tea Strainer with resting cup for simple, mess-free steeping. Sounds like a day made.
No Ordinary Joe

Yerba mate provides mental clarity, boosted energy levels (without the coffee jitters), and reduced stress. All that with a rich chocolate coffee taste that's anything but ordinary.

Dandelion Root, Cocoa Shell, Roasted Chicory Root, Liquorice Root, Roasted Mate. | 3.5oz - 100g
A Good Root

Ginger tea with a turmeric kick and a touch of sweetness settles the stomach and gives your overall wellbeing – and your mood – a boost.

Ginger, Liquorice Root, Galangal, Moringa, Turmeric. | 4.4oz - 125g
Dark Chocolate Shake

Welcome to the perfect indulgence: as richly chocolatey as your favorite treat, without the sugar or processed ingredients that leave you feeling worse.

Cocoa Husk, Cocoa Bean, Cocoa Powder, Barley Malt, Rooibos, Sweet Blackberry Leaves, Liquorice Root. CONTAINS BARLEY. | 3.5oz - 100g
Tea Strainer

A quick and effective way to steep your tea, this little guy comes with a convenient resting cup, so you don't slop liquid on your table. Just transfer the strainer from your teacup to the resting cup after steeping. Filters out even the finest tea particles while infusing.