The Best Tea Cocktail and Mocktail Recipes for the Winter Season
The Best Tea Cocktail and Mocktail Recipes for the Winter Season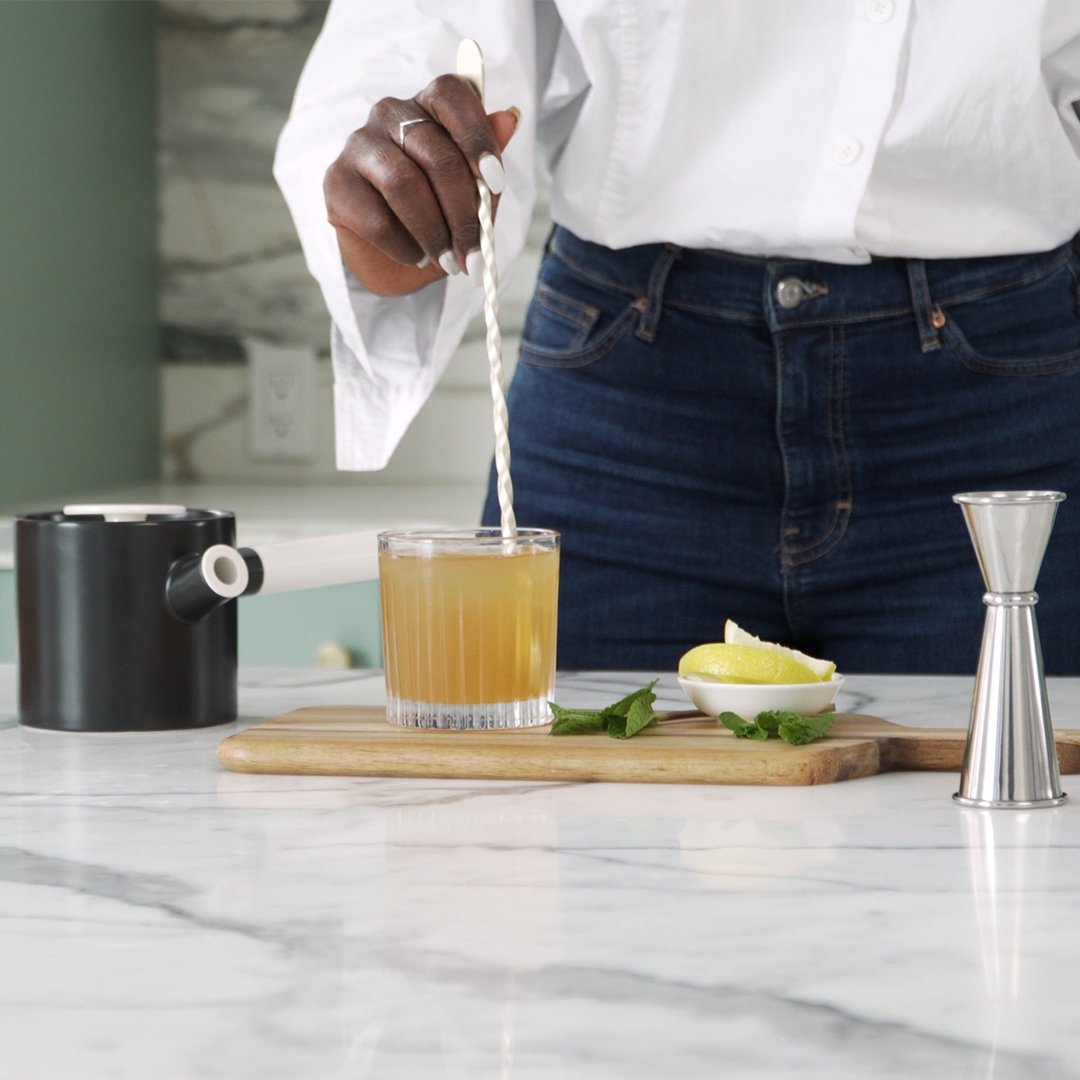 Winter is just around the corner. The cold weather, icy roads, the picturesque landscape covered in a blanket of snow - and, of course, endlessly shoveling your driveway. Brrr! Nothing warms you up during long winter nights like a warm cup of tea spiked with your favorite alcohol. You can even create the same tea cocktails in a non-alcoholic mocktail form.
Turning up the Heat on Your Winter Tea Cocktails
Around 85 percent of the tea consumed in the United States is black. And the most common form of black tea is consumed warm in a cup or as a refreshing iced tea on a hot summer day. However, many incorporate classic cocktail recipes into their hot tea drinks to enjoy at a winter holiday party or as a hot toddy during the cold winter months.
Most of these tea cocktails, mocktails, and hot drinks are made with black teas like Earl Grey tea, green tea, or masala chai. Whether you use tea bags or loose-leaf tea like these, they make an excellent base for combining alcohol, spices, and fruit juices like pineapple juice, cranberry juice, apple juice, lemon juice, and lime juice. You can even infuse these delicious tea cocktails with cream soda, ginger beer, and sparkling water for a bubbly fizz!
Let's explore some of the more popular tea cocktails and the non-alcoholic tea mocktails you can make right at home. Wow your guests at your next holiday party or winter evening get-together and see what magic you can create from combining fresh tea leaves, a little boiling water, and your favorite alcohol!
Alcoholic Hot Tea Cocktails
Ready to make that hot tea drink? Wondering what the mix ratio is? Here are our step-by-step instructions for giving your hot drinks just the right amount of tea, alcohol, warm spices, and your favorite mix.
Matcha Sour
While most of these tea cocktails use black tea, this recipe uses the potent power of matcha green tea powder to create a bright green cocktail that is sure to be the star at any holiday party.
Ingredients:
½ tsp. All Matcha

1 oz. gin

¾ oz. sake

¾ oz. lime juice

½ oz. honey syrup

1 egg white

Fresh ice cubes

Lime zest for garnish
How to make the honey syrup:
Mix together 1 part water with 1 part honey in a small saucepan.

Bring the ingredients to a simmer and continue to gently stir until combined.
Instructions to make the cocktail:
Mix the sake and tea powder together with a matcha whisk like this one.

Pour into a cocktail shaker and add the gin, lime juice, and honey syrup.

Add the ice and shake it all together vigorously.

Remove the ice by straining the mixture. Place the ingredients back into the shaker and shake again vigorously to thoroughly emulsify the egg white.

Strain the mixture into an old-fashioned glass filled with fresh ice.

Your garnish instructions are easy. Put some of the foam from the matcha on top and garnish with some lemon zest.
Chai Hot Toddy
Chai already gives the tea drinker a warming sensation. The blend of spices in this tea makes it a perfect drink to warm you up and leave you feeling all toasty inside. Add a little bourbon, and you've covered all the warm and spicy bases.
Ingredients:
1 tsp. Chai Me Up

8 oz. hot water

1 tbsp. honey

1 tbsp. freshly squeezed lemon juice

2 oz. of your favorite bourbon

A lemon wedge to garnish
Instructions:
In a mug or heat-proof glass, steep your tea bags or loose-leaf tea in hot water.

Discard the tea leaves.

Add the honey to the tea and stir until it is completely dissolved.

Add a splash of lemon juice.

Next, add your favorite bourbon and stir until combined.

Garnish with the lemon wedge.
Non-Alcoholic Hot Tea Drinks
You can make each and every recipe above into a non-alcoholic version. Simply remove the alcohol. The flavors are just as inviting and give you every ounce of satisfaction. However, if you want some real zingers that are uniquely mocktail-inspired, here are some great mocktails that are sure to be crowd-pleasers!
Earl Grey and Tonic
This mocktail is a great blend of the flavors of Earl Grey tea simple syrup with tonic or soda water. The simple syrup makes it sweet, and the bergamot flavor is this drink's shining star.
Ingredients:
1/2 cup of cold fresh water

2-3 tbsp. Shades of Earl Grey

1/2 cup to 1 cup of sugar, depending on how sweet you like it

1/2 oz. of freshly squeezed lemon juice

3 to 4 oz. of tonic water (or soda water)

8 oz. crushed ice
Instructions to make the tea syrup:
Combine the sugar and water in a small saucepan.

Bring the water to a boil, frequently stirring to dissolve the sugar.

Remove from heat and add the tea.

Cover and let it steep for about 15 minutes.

Strain out the tea leaves, and let your newly made syrup cool for 30 minutes.

Once cool, transfer your syrup to an airtight container. You can keep it for up to one month in the refrigerator.
Instruction to make the mocktail:
Fill a highball glass with a good amount of crushed ice.

Pour in 3/4 oz. of your Shades of Earl Grey Tea Syrup, a 1/2 oz. of lemon juice, and 3-4 oz. of tonic water.

Gently stir the drink to combine the ingredients and serve.
You can add another 1/2 cup of sugar if you want to make the drink extra sweet, but we love this recipe just the way it is. If you don't want to add sugar, you can use honey or maple syrup instead for a unique flavor twist.
Substitutions
Here are some more common ingredients you can add or remove to make your cocktail/mocktail quickly chase away those winter blues.
Lemon Juice, Lime Juice, Apple Juice, And Other Juices
We all know that tea and lemon go hand in hand, but when it comes to cocktails, you can switch out one juice for another as long as you ensure that both juices are equally sweet. For example, using pomegranate juice instead of apple means that you may have to add a bit more sweetener to offset the slightly bitter taste of the pomegranate.
Water and Alcohol
Water is essential for making tea. However, when you create a cocktail or mocktail and want to add something a little more unique but still quench your thirst, consider using soda, tonic, or sparkling water. It will give your drink a fizzy and festive feeling!
With any cocktail recipe using the right alcohol makes all the difference. With a mulled cider, you can swap out wine for rum or bourbon and still create an amazing holiday drink. But always choose alcohol that works with the rest of the ingredients in your recipe. For example, mint leaves go great with alcohol types like tequila, vodka, and gin.
Conclusion
We hope you enjoyed our list of excellent holiday mocktail and cocktail recipes. They are easy to make, and you can quickly get all the ingredients at your local grocery store. All you have to do is invite a few friends or family members over, pour a glass or two for you and your guests, and enjoy these delicious drinks while you watch the snow falling outside. You can always shovel later!