How to Make an Arnold Palmer Drink
How to Make an Arnold Palmer Drink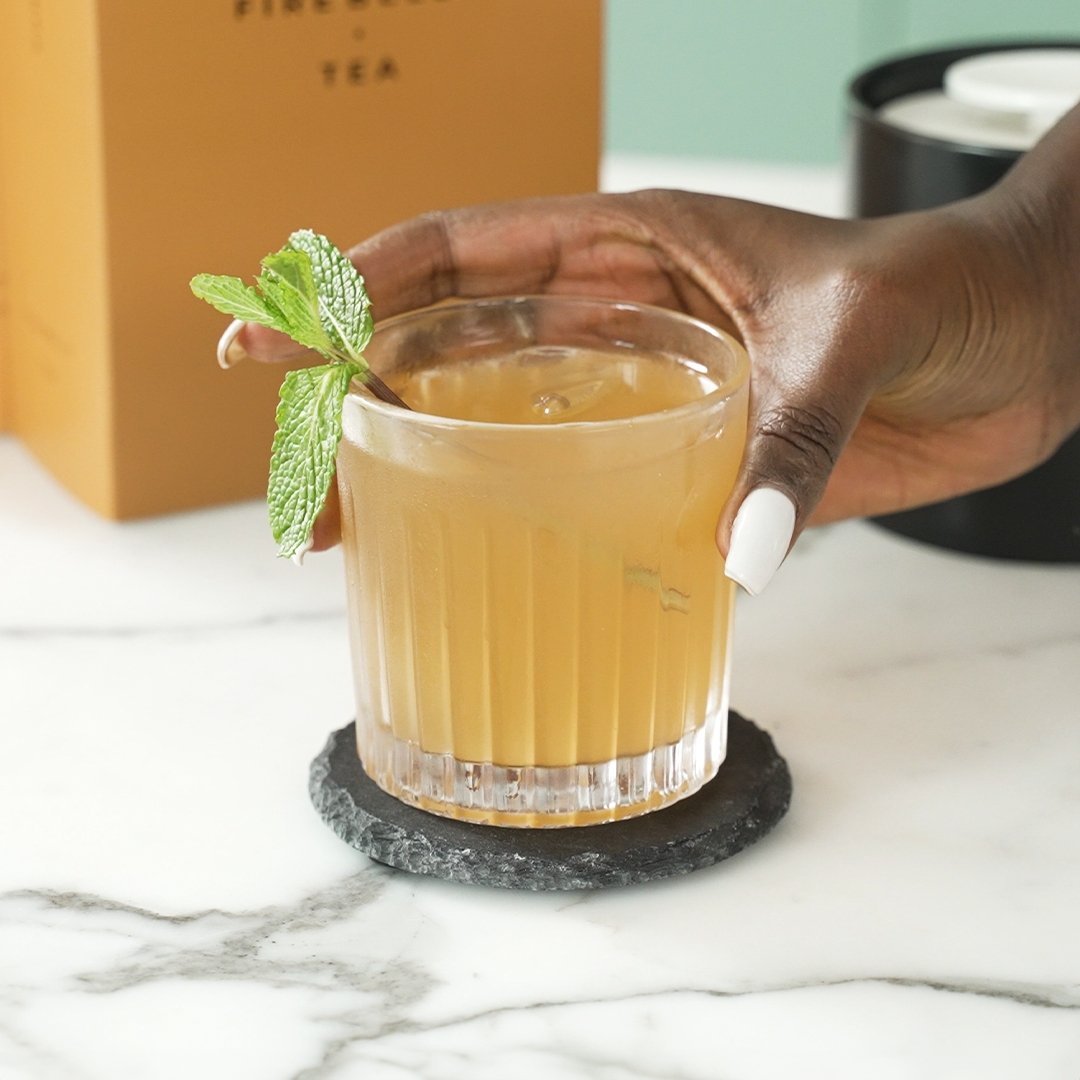 The classic Arnold Palmer drink is one of those delicious recipes we can't pass up. The Arnold Palmer is a healthy mix of iced tea and lemonade with a sweet and refreshing taste. However, if you ask for an Arnold Palmer in a restaurant, you may not get the full iced tea and lemonade experience you've been expecting.
Often these drinks fall short on flavor because of the quality of the ingredients used to make them. Drinks made with instant powdered tea, or powdered lemon flavoring taste tinny and artificial. In contrast, other recipes use tea bags that brew far too long, causing the tea to become bitter and overpower the zest of the lemon.
In this article, we'll share the very best Arnold Palmer recipe you can easily make from the comfort of your very own kitchen.
What's an Arnold Palmer Drink?
Never heard of an Arnold Palmer drink? Perhaps you've heard of the famous professional golfer Arnold Palmer? Legend has it that he would often order the drink at the golf club. On one occasion, a woman saw him drinking it and asked the waiter for "that Palmer drink," and that's how the name was born!
Invented in the 1960s, this refreshing and delightful drink is a non-alcoholic combination of iced tea and lemonade. The classic version of the Arnold Palmer has a rich, sweet tea flavor combined with a bright, fresh, healthy dose of tart and tangy real lemon juice and lemon slices.
If you're looking for a zesty and sweet mocktail to serve on a hot day, this drink is it. This tasty drink also offers a few health benefits. It is packed with vitamin C from the fresh lemon slices and antioxidants from the black tea!
How to Make an Arnold Palmer Drink
Making an Arnold Palmer drink is quick and easy, and you can make it in bulk, which means you'll always have some on hand when it gets too hot outside, and you need a satisfying drink to cool you down.
The recipe boils down to ratios. Once get a balance you like, you'll be serving Arnold Palmer drinks to all of your friends. So, what is the ideal ratio for an Arnold Palmer drink? Here are our best calculations.
3 parts unsweetened iced tea

1 part lemonade
These are just the basic ingredients to set the stage for how you want to dress up this drink to really drive home the flavors for a thirst-quenching hole-in-one!
The Arnold Palmer Drink Recipe
The Arnold Palmer drink combines lemonade with iced tea to make its iconic and refreshing taste. Our recipe lists the quantities you'll need to make a single serving and a pitcher of this beverage. Let's get started!
Directions for a single serving
Prep Time: 2 minutes Yields: 1 drink
Ice - add ice to a highball glass. We like using round or shaved ice to make it look as cool as it tastes!

Lemonade - In a mixing glass, stir ½ ounce of fresh lemon juice with 2 ounces of water and ½ ounce of sweetener. We always use all-natural sweeteners like maple syrup or honey. Avoid using processed sugar like simple syrup or white sugar. If you want to make the beverage quick, you can also use 3 oz (6 tbsp) fresh sweetened pre-made organic lemonade.

Iced Tea - Next, add 9 oz (1 cup) unsweetened loose-leaf iced tea to your lemonade and fill the glass.

Stirring - Stir the contents in your glass to mix thoroughly and evenly distribute the flavors.

Garnish - For an extra splash of color, garnish it with a fresh mint sprig or some lemon slices.
Instructions to Make A Pitcher of Iced Tea Without Tea Bags
Our recipe for making a pitcher of iced tea uses the cold brew method. It's quick and easy, and because we're using fresh tea leaves, you'll get a lot more flavor and nutrition than if you were using tea bags. Here's how to make your iced tea:
Add 7-10 tsp of high-quality loose-leaf tea to a 50oz pitcher.

Carefully pour 2 cups of filtered hot water first, then add 4 cups of filtered cold water to the pitcher.

Give the contents a mix by gently stirring, then place the pitcher in the fridge, allowing it to steep for 2 -6 hours.

Once fully cooled, it's ready to use to make a delicious Arnold Palmer drink!
Instructions to Make The Homemade Lemonade
The ratio to make the lemonade is roughly 1 part freshly squeezed lemon juice to 4 parts water. You can make larger amounts of the lemonade if you're inviting friends over. Double or triple the amounts of lemon juice and water, for example, 2 cups of lemon juice to 8 cups of water. Keep cool in a fridge and use as needed. Remember to make sure to stir before you pour to combine it with the other ingredients.
Ways to Step up Your Arnold Palmer Drink
You can do a few things to take your Arnold Palmer drink recipes to the next level! Here are some of our suggestions:
Homemade lemonade - As we've already stated, we love homemade, all-natural ingredients in our recipes, like fresh lemon juice and lemon slices. But if you're going to use a store-bought brand of lemonade, use one that is organic and all-natural and doesn't contain a ton of sugar that adds unnecessary calories to your daily diet.

Homemade Iced Tea - Again, making your own iced tea tastes much better than a drink where you add tea bags soaked in hot water. Tea in bags is usually lower quality and has less flavor and nutrients than loose-leaf.

Add a little extra lemon - To give the Arnold Palmer drink a bit more zest, squeeze a little juice from a lemon just before serving.

Adjust the sugar - You can sweeten the drink slightly to the desired sweetness by topping off the drink with a tiny drizzle of maple syrup or honey.
Alternative Arnold Palmer Drink Recipes
You can enjoy your Arnold Palmer without any added extras; it's delicious all on its own! However, you can always switch up the original Arnold Palmer recipe and give it some pizzazz by creating new and wonderful drink recipes.
Half and Half - Instead of the 3 to 1 ratio, change the recipe to half measurements. Try using half iced tea and half lemonade for an intense burst of flavor.

The John Daly - If you're looking to turn this drink into a spiked Arnold Palmer-style drink, simply add 2 shots of vodka to 2 ounces of your iced tea and lemonade mixture. By adding these shots of alcohol, you turn the classic Arnold Palmer drink into another professional golfer-inspired drink, "The John Daly."

Bourbon Arnold Palmer Cocktail - Another alcohol-infused cocktail that goes by the same name - a spiked Arnold Palmer cocktail that uses bourbon.

Lavender Palmer - For a more floral approach to the drink, you can swap the lemonade for an aromatic lavender lemonade.

Sparkling Palmer - To give the drink some bubbles, use sparkling lemonade or a mixture of sparkling water, lemonade, and some iced tea.

Pink Palmer - Use your regular iced tea, but give your Arnold Palmer a pinkish hue and a sweet berry flavor by substituting the traditional lemonade with raspberry, strawberry, or pink lemonade. Fill a glass with ice, pour your mixture in and garnish with a sprig of mint.
Some Additional Notes On The Recipe
Feel like something different? You can adjust this iconic drink and make your very own taste sensation. Do you like it to be sweeter? Then sweeten it with a little more honey or maple syrup and cut back on the lemonade and iced tea until you get the desired sweet taste.
If you prefer a lemony flavor, cut back on the iced tea and add a bit more lemonade, or throw in an extra lemon slice. If cocktails are your game, play around with different flavors using gin instead of vodka.
Add more ice to your pitcher to make it super cool and refreshing to serve golfers after a long game. With recipes like this, you can make that pitcher or a single glass of this delicious drink in any way you like it. All you have to do is serve and enjoy!
Nutrition Facts About This Drink
If you're wondering about this drink's nutrition information, here's a quick breakdown of what this drink offers. The % Daily Value (DV) is a guide of general nutrition advice to let you know how much a nutrient in a food serving contributes to your daily diet. Our recipe contains the following:
269 calories

0g of fat

70g of carbohydrates

0g protein
Conclusion
You don't need to know how to swing a golf club to enjoy this beverage. It's easy to make and guaranteed to quench a thirst. Consider making this classic beverage when dealing with a scorcher of a day. It will satisfy your taste buds and keep you cool as ice! If you're looking for a loose-leaf iced tea blend to try in the recipe, check these out!