The Best Homemade Pumpkin Spice Latte Recipe
The Best Homemade Pumpkin Spice Latte Recipe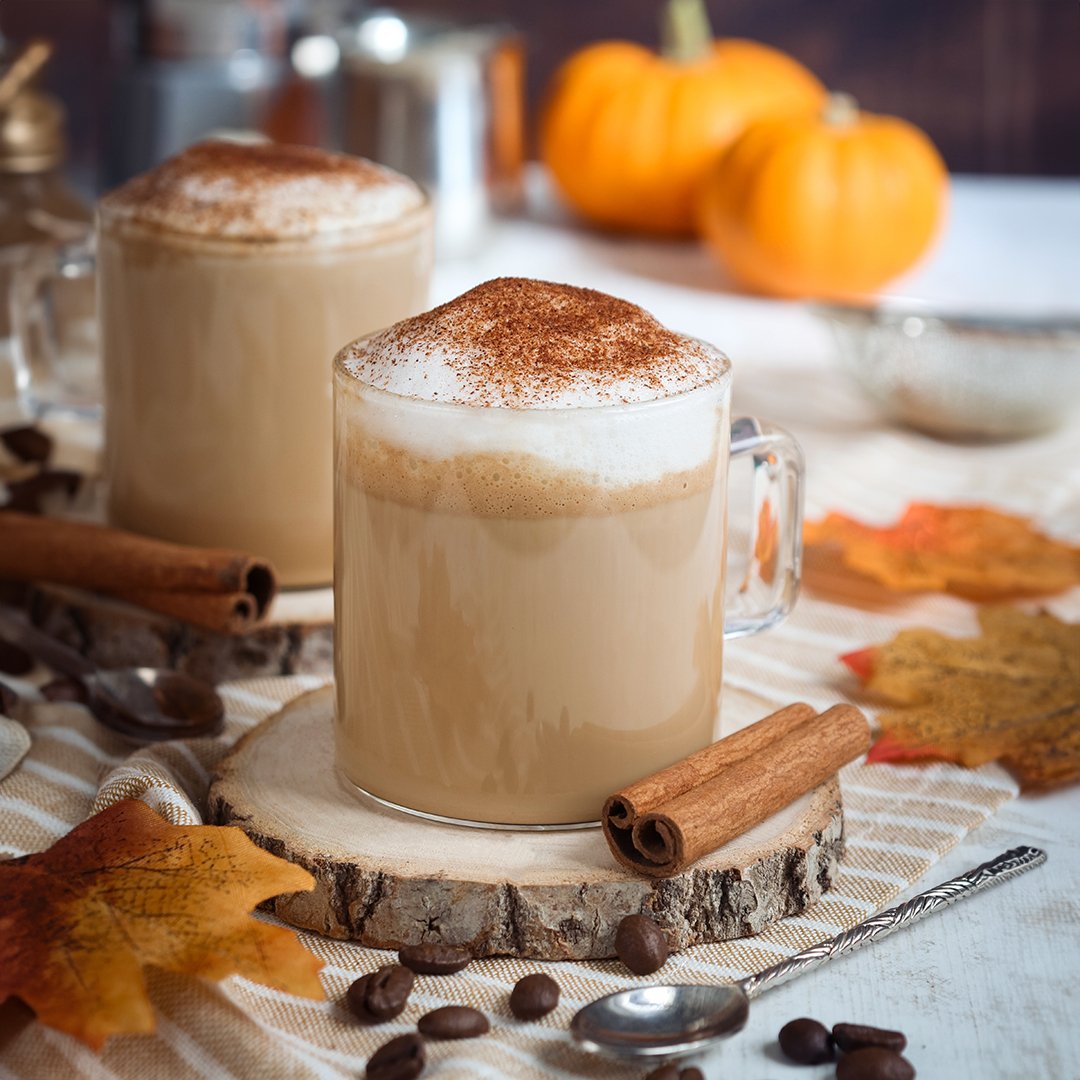 Nothing says fall is here like the flavor of a pumpkin spice latte. That spicy and sweet-tasting beverage is all you need to keep you warm on a cool day. It's the perfect warm drink to sip as you rake the leaves in your yard or sit on your front porch and watch them fall, deciding if you even want to rake them.
Instead of grabbing a Starbucks pumpkin spice latte, why not make your own version at home? We have the best homemade pumpkin spice latte recipe just waiting for you to try.
Made with real pumpkin and naturally sweet, it's a better way to get on the pumpkin spice bandwagon that makes you feel better with every sip and even has health benefits – instead of leaving you with a stomachache and the jitters. Sound good? Let's do this.
Pumpkin Pie Spice Season
Pumpkin season is just around the corner. Soon you'll be seeing Starbucks pumpkin spice latte back on their menu. Instead of spending time in the drive-thru, you could spend it making your very own Starbucks-inspired pumpkin spice latte right at home.
Who doesn't love sipping a warm and cozy drink when the air is crisp and cool? Not to mention how this recipe will create an aroma that will fill your house with the smells of cinnamon, nutmeg, and cloves.
Some Thoughts About Pumpkin Spice Lattes
In the past few years, Starbucks and other coffee shops have not only got on the pumpkin latte bandwagon, but they've been driving it - and for a good reason! They combine the natural sweetness of pumpkin purée with the zip of pumpkin pie spice and the creaminess of your favorite milk.
However, not all pumpkin spice lattes are created equal. The Starbucks version contains around 50g of sugar; others use artificial ingredients, sweeteners, and flavors. You can also buy ready-made pumpkin spice latte mixes at the grocery store; just watch out that all ingredients suit your diet.
The best way to enjoy this drink is to create your own homemade pumpkin spice latte. You can adjust the sweetness, spice amount, and extra ingredients like whipped cream to elevate this latte to the next level.
This recipe will leave out artificial ingredients like pumpkin-flavored syrups or sweeteners. Instead, we use all-natural pumpkin and fresh spices. Adding extra sweetness is up to you – you can lightly sweeten with pure maple syrup. You can whip this tasty latte together in no time, and the flavor is so inviting you'll want to enjoy it long after pumpkin pie spice season has gone.
Ingredients For Your Homemade Pumpkin Spice Latte
To make this delicious homemade pumpkin spice latte, you only need a handful of ingredients. The flavors will be fresh, creamy, and spicy and won't have the overpowering taste most store-bought or coffee shop brands have. Here are the ingredients you'll need to make a pumpkin spice latte at home:
1 Cup of Milk - Frothed milk gives this seasonal latte a nice creamy texture. The best milk is whole milk, but you can substitute it with skim milk. However, if you're lactose-intolerant, don't worry! You can make this homemade pumpkin spice latte recipe using almond milk, oat milk, soy milk, or coconut milk.

Optional: 1 - 2 Tablespoons Sweetener - Most pumpkin spice latte recipes call for light brown sugar, but we're going straight to the flavor of fall with some smokey and sweet maple syrup.

Optional: Whipped Cream - By adding whipped cream to your pumpkin spice latte, you take it to a whole new heavenly tasty level. If you're vegan or lactose-intolerant, you can substitute the whipped cream for vegan whipped cream or add some coconut cream.
Some Recipe Notes On Substitutions
The more pumpkin recipes you make, the more you realize you can bend the rules a little bit, like adding some extra pumpkin puree by leaving out some excess liquid, like the vanilla extract. Here are some other suggestions for substitutions that you can use:
We love using maple syrup! It gives your pumpkin spice latte that sweet smokey, naturally sweetened fall flavor that only maple syrup can do. However, you can substitute it for simple syrup, regular sugar, light brown sugar, or regular brown sugar.
Kitchen Tools
A few kitchen tools will make it easier to make a pumpkin spice latte at home. We've given you some alternative solutions if you don't have something on the list.
Milk Frother
Grab our stainless steel Electric Whisk to make this whole thing even easier.
Some expensive coffee machines already have a milk frothing feature. But if you don't have one, you can froth milk by either shaking it back and forth in a jar, whisking it, or using an electric mixer, electric blender, or immersion blender.
Pumpkin Spice Latte Recipe 
1. Add 2 tbsp. of Pumpkin Spice to your strainer. Bonus: Get the most flavor and enjoy mess-free steeping with the Firebelly Tea Strainer and Teacup.
2. Pour slightly below boiling water (90˚C/195˚F) over your leaves – be sure to fill your Teacup only 3/4 of the way.
3. Steep for 6-9 minutes.
Optional: Add sweetener to taste.
4. Use your Electric Whisk to froth the milk of your choice.
5. Pour frothed milk over tea.
Optional: Sprinkle some extra cinnamon on top of the frothed milk.
Optional: If you want something a little more decadent, you could also add whipped cream or a vegan cream.
Enjoying this delicious drink is easy, and making it is even easier. And that's a good thing because fall will soon be here. While searching for your favorite sweater, grab all the ingredients you need to make the best pumpkin spice latte around, sit back and enjoy every sweet sip of that fall-flavored goodness.