How to Make a Matcha Latte
How to Make a Matcha Latte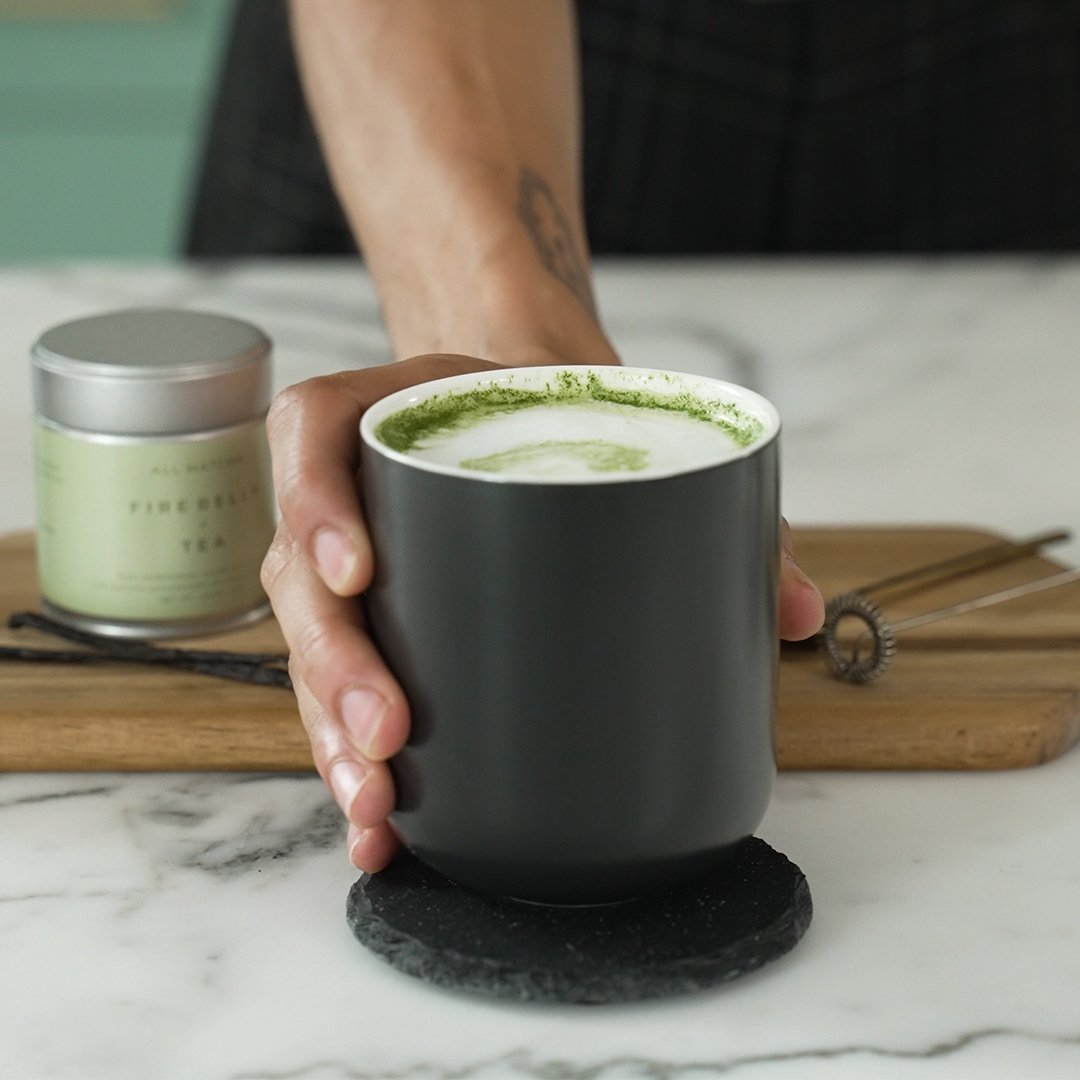 Most tea drinkers know what matcha green tea powder is, and even more tea drinkers know what a matcha green tea latte is! The pleasant, earthy, refreshing flavor of matcha lattes is a star attraction at many coffee shop chains. Even if you're not a tea drinker, you've probably heard of the Starbucks version of the matcha latte.
This article will explore what a matcha green tea latte is and what makes them so inviting. We'll even give you the best homemade matcha latte recipe you can make all on your own. No more need for drive-thrus with this recipe! But before we share the recipe with you, let's dive into what makes a matcha latte.
It All Starts With Matcha Powder
Iced matcha latte or matcha green tea has recently gained much popularity in North America, but matcha powder is not a new discovery. Green tea originated in 8th century China as tea leaves or in the familiar bright green matcha powder form.
This drink then made its way to Japan by the 12th century and eventually spread to other parts of the world. Today this powder is used in the popular matcha latte drinks found in most cafés.
Matcha powder has a reputation for helping with improved focus and energy that you might typically find with caffeinated beverages. The only difference is that you won't experience the caffeine crash with a matcha latte that you would with a regular coffee latte. Plus, the fine, bright green powder contains tons of antioxidants!
The problem with finding great matcha lattes lies in the quality of the powder used to make them. Most cafés use pre-packaged powders, sweeteners, and flavors to make matcha lattes. When you make a matcha latte at home, you'll want to use the best ingredients for the best flavor.
Types of Matcha Powder
Matcha manufacturers turn the ground green tea leaves into a fine powder. But not all powders are created equally. There are three different grades of matcha powder used for various purposes. Let's explore these powder grades, so you know you have the right one to make your delicious drink!
Ceremonial grade
Ceremonial-grade matcha is a high-quality matcha powder for Japanese tea ceremonies and connoisseur tea drinkers. Of all the matcha grades, the ceremonial grade has the brightest green color and smoothest flavor.
Latte grade
This version is slightly less bright green and has a more bitter flavor. Although you can use ceremonial grade powder, this grade is ideal for replicating that signature matcha latte taste and is a little less expensive!
Cooking grade
The cooking-grade matcha is greenish-brown in color and is relatively bitter. It is mainly used in cooking recipes containing natural sweeteners like maple syrup or coconut sugar to balance the bitter taste. This grade is not ideal for making a good matcha latte.
Making a Matcha Tea Latte
We'll use ceremonial or latte-grade powders for our matcha tea lattes. The reason for this is simple - color and flavor. A ceremonial grade will give your drink a bright green color, and the taste will be smooth and full-bodied.
Making a matcha latte involves using green tea powder mixed with steamed milk, like whole milk. However, if you are lactose-intolerant and can't drink dairy milk, make your matcha green tea latte with unsweetened almond milk, coconut milk, soy milk, or oat milk.
The matcha powder in the recipe will replace the typical espresso coffee in regular lattes. You can adjust its strength by adjusting the amount of powder you use. But be careful not to add too much. You'll want to go for a regular green tea flavor without it being too bitter.
Your Very Own Starbucks Matcha Latte Recipe
Most coffee shops will offer hot matcha lattes as well as iced matcha lattes. Starbucks matcha lattes have become a staple part of their drinks cuisine. However, making matcha lattes is actually pretty straightforward.
With just a few simple ingredients and a little time, you can make your own matcha latte from the comfort of your home. This recipe makes one of the brightest green tea lattes, not to mention the excellent taste! We'll even include a way to make your very own rendition of a Starbucks iced matcha latte. Let's get started!
Hot Matcha Latte Recipe
Prep Time: 5 minutes Cook Time: 0 minutes Makes 1 serving Nutrition Calories: Roughly 70 calories - This figure is based on almond milk and ½ tablespoon of sweetener. The calories will change depending on the milk you use and how much sugar you add.
Ingredients
¾ teaspoon of ceremonial-grade matcha green tea powder. You can add an additional ¼ teaspoon or more powder for a stronger matcha flavor.

2 ounces (¼ cup) of cool filtered water

½ tablespoon of sweetener. We'll be going all natural with honey or maple syrup.

2 ounces (¼ cup) of hot water. The temperature should be roughly 175 to 180 degrees Fahrenheit.

4 ounces (½ cup) frothed hot milk. We like using whole milk, but you can substitute dairy milk for oat, soy, almond, or any other vegan creamy milk. To reduce sugar intake, you can use unsweetened milk, such as unsweetened almond, oat, or soy milk.
Instructions
To make one of the best matcha latte recipes, you'll need to make matcha tea first. To do this, you'll need a bamboo matcha whisk or a great whisk like this one! Take a small amount of matcha powder and whisk vigorously with water to make a paste in a bowl. Keep adding water until you see your mixture begin to froth, which will typically take around 20 to 30 seconds. If you don't have a bamboo whisk, you can shake the contents back and forth in a sealed jar until it becomes frothy.

Add a natural sweetener like coconut sugar, maple syrup, or honey to your mug. Avoid processed simple syrup products or use half the sugar to reduce sugar. You can also add optional flavorings like vanilla syrup, vanilla extract, caramel extract, coconut oil, and cinnamon to give your latte a boost! Then add a little hot water, stir to dissolve the sweetener, and warm it up.

Pour the matcha mixture into your mug and add your sweetener mixture. Give the contents a quick stir.

With a milk frother, froth the milk, or steam it. An espresso machine will help make the milk frothing process easier. Read the instructions on your espresso machine or milk frother before using.

Pour your steamed or frothed milk into your mixture, give it a quick stir and enjoy!
With recipes like this, you can experiment and make many more tea lattes, such as the classic black tea latte, chai latte, or vegan chai latte. Follow the instructions above, but substitute your matcha powder for a cup of strongly brewed tea.
For the black tea, you can use Darjeeling, English Breakfast, or Earl Grey to give your latte a unique flavor. More matcha recipes are waiting for you to get creative with!
How to Make an Iced Matcha Latte
Iced matcha lattes are just as popular as their heated counterparts, and making iced lattes are just as easy! The iced version of this recipe is similar to a hot matcha latte, but the most significant difference is that you won't need a milk frother or hot water - except to brew your tea initially. Let's see how to make a homemade version of the iced matcha latte!
Instructions
Follow the instructions in Step 1 above. Use your matcha whisk to whisk the matcha powder, but use 1 teaspoon of matcha with the 2 ounces of cool water instead.

Add a tablespoon of your sweetener and combine it with the matcha mixture. You can even add a few drops of vanilla extract to give the latte a flavor kick.

Next, add milk. Use ¾ cup almond or oat milk for a creamy texture. You can also use low-fat or skim milk to reduce calories. Our favorite dairy-free milk for making an iced latte is creamy oat milk. And since this is an iced latte, make sure you use cold milk.

Add ice, serve and enjoy!
If you want a creamier latte, add more of your oat milk, and cut back slightly on the matcha.
However, if you want more matcha flavor, increase the powder mixture slightly and cut back on the oat milk. Once you find the right combination of flavors, you'll find a desirable amount for each ingredient.
Conclusion
Whether you like your latte with oat milk, or regular milk, this recipe is sure to please with its vibrant green color and earthy and creamy flavor. The best part is that you can make the latte ahead of time and make as many batches as you want! You'll soon wonder why you spent time sitting at the drive-thru window waiting for a latte you can easily make at home, and it tastes better!