Baking With Tea: Delicious and Surprising Recipes for Tea-Based Treats
Baking With Tea: Delicious and Surprising Recipes for Tea-Based Treats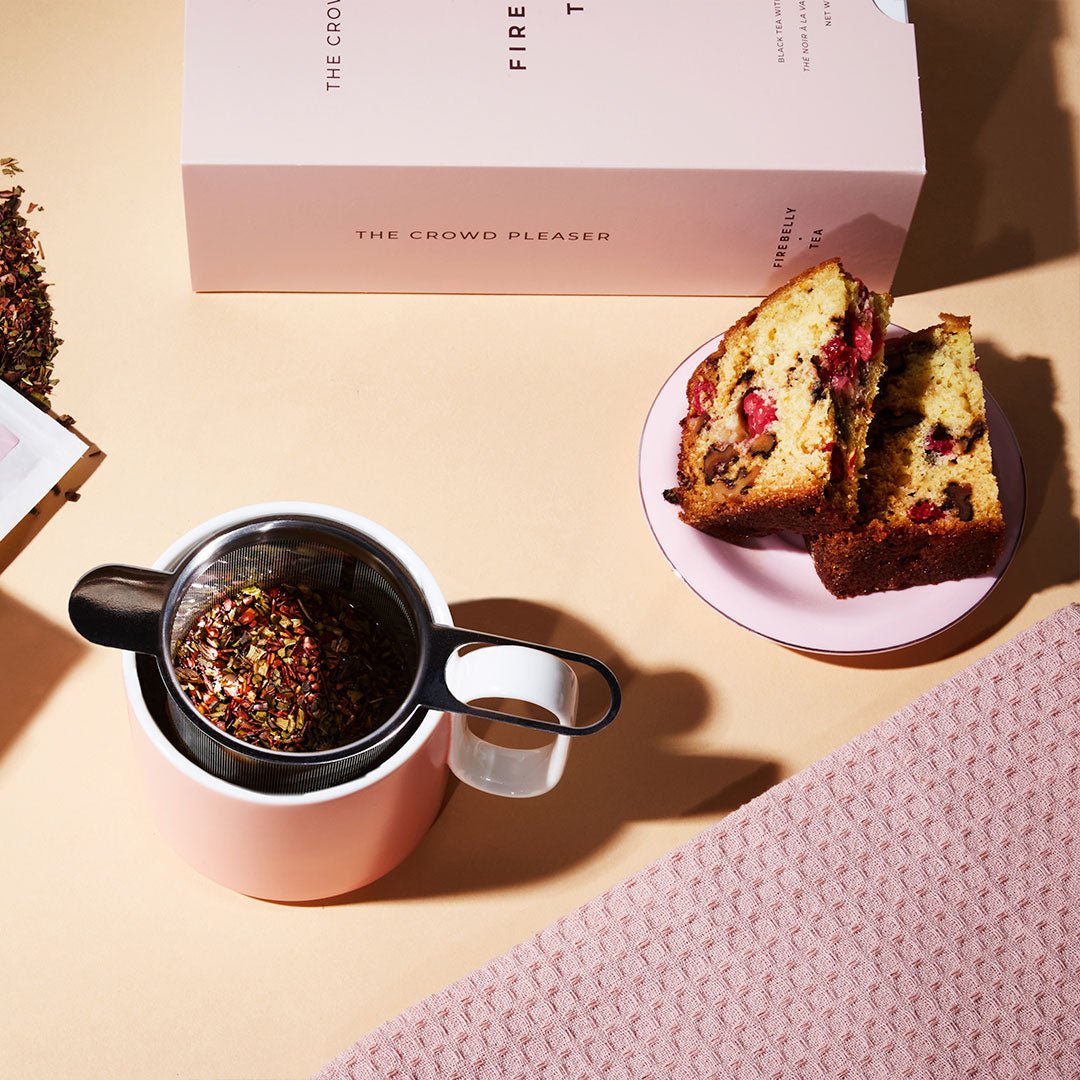 Tea leaves are little leaves with a large flavor profile! If you love tea as we do, you'll love the delicate flavor infusion it can give baked goods. This blog will show you why you should start baking with tea and gives you some tips and tricks on using loose-tea leaves and powdered tea in baking.
This ultimate guide to baking with tea will also tell you a little more about some of our favorite loose tea blends, their health benefits, and how you can use them to impress your friends and family with some delectable baked goods.
Finally, it will give you four wonderful tea-infused recipes - a delicious recipe for baking a batch of spicy chai tea-infused sugar cookies, a floral jasmine-infused crème brûlée recipe, a magical matcha-infused baked oats recipe, and a recipe for a loaf of slightly sweet and super healthy tropical banana bread. Are you ready to add your favorite tea to your recipes? Put your apron on, and let's bake!
Why Baking With Tea is a Great Idea
A chilled glass of tea can cool you down and help you stay hydrated on a hot summer day, and a cup of hot tea can make you feel cozy and warm on cooler days. No wonder tea is one of the world's most popular drinks!
And it's not just for drinking - adding tea to baked goods will give it a delicate but delicious tea flavor, not to mention the health benefits that come with tea recipes! Packed with antioxidants, and other healthy plant compounds, ancient civilizations have used green and black teas as medicine for thousands of years.
You can add tea to nearly any type of baked good. You can use it as a filling, a glaze, or in a sauce or marinade. It's so versatile! Here are some tips for pairing various teas with the right type of baked good:
Earl Grey Tea
Earl Grey tea is a classic black tea with a citrus and floral flavor, which pairs well with vanilla or chocolate cake, cupcakes, and muffins. Substitute the liquid ingredients of a glaze with some freshly brewed loose-leaf Earl Grey.
Matcha or Green Tea
Matcha comes from the same plant as regular green tea. It's just grown differently and processed into a fine powder. Both have a slightly bitter, earthy taste and tons of health benefits. These vibrant teas work well with sweet and nutty baked goods.
Recipes calling for green tea usually requires already brewed tea and may not discolor the baked good. It also has a less intense flavor. If you like this idea, try baking green tea peanut butter cookies or lemon and green tea muffins with poppy seeds.
Recipes that require matcha usually call for powdered leaves, resulting in a beautiful bright green and intense flavor! The vibrant color of this extra green tea looks and tastes terrific in recipes with pistachio nuts and white chocolate. Matcha-infused pistachio and white chocolate truffles are a divine treat!
Masala Chai Tea
Masala chai is a delicious spiced tea that includes spices like cinnamon, cardamom, ginger, nutmeg, and clove. You can make it at home with black tea or green tea or buy a natural blend like this. The spices in chai tea pair well with rich cakes and cookies like dark chocolate cake, carrot cake, or spiced Christmas cookies.
Jasmine Tea
Jasmine tea is a floral and fragrant tea that's gentle on the senses. Freshly brewed loose-leaf jasmine tea pairs well with delicate cakes like a chiffon cake and works exceptionally well to balance the richness of a decadent crème brûlée or with the cream in cream puffs and èclairs. If you enjoy floral flavors, this is an excellent tea to bake with.
Rooibos Tea
This caffeine-free tea tastes sweet and nutty and pairs well with baked goods with honey and citrus flavors. This slightly tart, spicy rooibos blend will pair well with fruit tarts and wild berry muffins and elevate ordinary shortbread cookies to flavor-infused treats that wow friends and family.
Black Tea
Black tea works exceptionally well when you incorporate it into fruit cakes or pies. When you combine this strong and flavorful tea with brandy or another sweet liquor, the flavors combine beautifully and enhance one another. It also works well with a recipe that requires dark and smoky maple syrup - the two flavors are wonderfully complimentary.
White Tea
This light and subtle tea will work well in shortbread cookies, vanilla cake, coconut cake, or baked pannacotta. It's the perfect addition to white chocolate frosting - it won't overwhelm the other ingredients - instead, it will add a subtle but genuinely divine taste. Steep it in a cup of hot milk and replace some of the liquid required in your recipe for a delicate but delicious flavor.
Tips and Tricks for Baking With Tea
Before incorporating tea into your next baking adventure, here are some tips and tricks to help you bake up a storm.
#1. Loose-Leaf Tea vs. Brewed Tea Bags vs. Powdered Tea
When baking with tea, the first thing to consider is whether you will use tea bags, loose-leaf tea, or powdered tea. Although many people will have a few bags of tea lying around, and it's a convenient way to brew a cup of tea, there are better ways to get the flavor of the tea into your baked good.
For the most flavorful infusion, use loose-leaf tea. A tea bag will usually contain lower-grade ground tea leaves, while loose-leaf tea is generally higher quality tea leaves that taste better, and you can use it brewed or ground into the recipe for extra flavor. Powdered teas like matcha are finely ground and have a concentrated flavor that's super easy to include in baking recipes.
Choosing between tea bags, loose-leaf tea, and powdered tea depends on the recipe and budget. For an incredible selection, look at the Firebelly Tea collection. A teaspoon of one of these fine loose-leaf teas will infuse a world of flavor into whatever you're baking.
#2. Watch Out for Caffeine!
Yes, a tea-infused cake can contain caffeine if you use tea with caffeine as an ingredient. So, if you're baking a batch of cupcakes for a children's party or have guests sensitive to caffeine, it's best to use a caffeine-free tea. These excellent herbal teas are caffeine-free, so they're safe for baking!
#3. Steeping vs. Grinding
Baking with tea requires fusing the flavors of the tea into your baked goods. You can do this by steeping the tea in hot milk or water, grinding it finely, and using it as dry ingredients.
Most recipes requiring matcha tea require it in powdered form. For teas like Earl Grey, chai, rooibos, pu erh, or black tea, some recipes require steeping, while others will call for ground-up loose-leaf tea for added texture. Whether your recipe calls for steeping or grinding, the key is to use high-quality tea.
#4. Substituting Liquids in Recipes
One of the simplest ways to infuse the flavor of the tea into your baked goods is to replace some of the liquid with a tea infusion. Here's how:
Follow the instructions on the packaging to brew the tea in hot water or hot milk.

Strain out the lea leaves, allow the liquid to cool, and measure out the amount of liquid required by the recipe. If the recipe calls for a cup of milk or water, simply use a cup of brewed tea instead.
It's worth noting that when you use a tea infusion instead of water or milk and the recipe includes intense flavors like spices or dark chocolate, the flavor of the tea may not be as strong as you'd like it to be.
Add ground tea leaves directly to the dry ingredients for a more concentrated flavor. It will give the recipe a taste and texture boost. Instead of dairy milk, you can use coconut milk, almond milk, or other plant milk.
4 Tasty Tea-Infused Baked Goods
Try these recipes to get started. Once you see how easy baking with tea is, you may even want to experiment with your own go-to recipes.
Chai-Infused Sugar Cookies Recipe
Ingredients
50 grams of granulated sugar

32 grams of confectioners sugar

1/2 tsp of vanilla bean paste

1/2 tsp of vanilla extract

113 grams of unsalted butter at room temperature

1 egg

192 grams of flour

1/2 tsp of Firebelly Chai Me Up blend

1/2 tsp of baking powder

1/4 tsp salt

2 tbsp decorating sugar
Instructions
Cream the butter, granulated sugar, confectioners sugar, and vanilla bean paste.

Add the egg and vanilla extract and mix until combined.

Measure the flour, chai tea leaves, salt, and baking powder into a bowl.

Add it to the sugar mixture and blend until a dough forms.

Roll the dough into a log. Then roll it in the decorating sugar, and wrap it tightly in plastic wrap.

Refrigerate the dough log for around two hours.

Preheat your oven to 400 °F and line a baking pan with parchment paper.

Cut the dough log into cookies around 1/4 inch thick.

Bake for 6 to 8 minutes.*

Cool on the baking sheet before transferring to a wire rack to cool completely.
* Check your cooking regularly to ensure they don't overbake. The bottoms will brown more quickly than the sides or tops.
Jasmine Crème Brûlée Recipe
Ingredients:
480 ml heavy whipping cream

1 tsp vanilla extract

1/4 tsp salt

3 large egg yolks

1 large whole egg

100 g granulated sugar plus 50 g for topping
Instructions:
Preheat your oven to 325°F.

Bring the whipping cream to a simmer in a small pot over medium heat.

Once tiny bubbles form on the surface, stir the tea leaves and let them steep for five minutes.

Strain the cream into a bowl and stir the vanilla extract and salt in.

In a large bowl, whisk the eggs and sugar together until creamy.

Continue whisking while you stream the tea-infused cream into the eggs.

Fill ceramic ramekins with the mixture and remove any surface air bubbles with a paper towel.

Place the ramekins in a baking tray with around 1/2 inch of hot water.

Bake for 30 to 35 minutes until the edges of the ramekins are set but the middle still jiggles.

Cool completely before chilling for at least four hours in the refrigerator.

Before serving, sprinkle an even layer of sugar on each crème brûlée, and evenly caramelize the sugar with a kitchen torch.

Let it cool for a few minutes so the sugar hardens.

Serve straight away or in less than an hour.
Tip: Baking with tea is flexible! If you don't have jasmine tea, substitute it with rooibos tea for a different but equally delicious recipe. The Firebelly Sweet Hibiscus Rooibos tea blend is an excellent choice.
Matcha Green Tea Baked Oatmeal Recipe
250 g old-fashioned oatmeal

1 large ripe banana

250 ml of unsweetened plant or dairy milk

1/4 cup of chopped pecan nuts

2 tbsp of pure honey

2 tsp culinary grade matcha powder

1 tsp ground chia seeds

1 tsp vanilla extract

1 tsp baking powder

1 pinch of salt
Instructions:
Preheat your oven to 350ºF.

Toast your pecan nuts in a skillet over medium heat and chop them into rough pieces.

Add the oats to a blender or food processor and blend until the texture is a fine powder.

Add the matcha powder and remaining ingredients, except for the nuts, and blend until smooth.

Mix the nuts in and pour the mixture into a large ramekin.

Sprinkle a few extra nuts over and bake for 30 minutes.

Enjoy warm!
Tip: For a chocolate chip version of this recipe, substitute the nuts with sugar-free dark chocolate chips. Or, you can use any other type of dry-roasted nuts. If you enjoy spices, add a tablespoon of cinnamon to the mixture and sprinkle some on top of the oatmeal before serving.
Tropical Banana Bread Recipe
Ingredients:
100 ml Firebelly Caribbean Dream tea blend brewed strong
100 g sultanas or other dried fruit like mango or pineapple
125 ml coconut oil softened
50 ml dark smoky maple syrup
3 large overripe bananas
2 large eggs
250 g almond flour
1 tbsp ground cinnamon
1 tbsp ground ginger
1 tsp mixed spice
Instructions:
Prepare the brewed tea by following the package instructions but steeping it for at least 10 minutes.

Add the sultanas or other dried fruit to the tea and leave it to soak as you prepare the rest of the ingredients.

Line a 2 lb loaf tin with baking paper and preheat your oven to 340°F.

Beat the coconut oil and syrup in a mixing bowl until soft and fluffy.

Add the ripe bananas and beat well.

Add the tea-infused sultanas or dried fruit.

Add the flour, ginger, cinnamon, and mixed spice to the bowl, slowly combining them.

Add the eggs one by one as you gently beat the mixture until combined.

Place the mixture into the loaf tin and bake for an hour to an hour and 15 minutes, until a skewer or knife point comes out clean.

Cool on a cooling rack, and enjoy!
Baking With Tea is Fun!
Whether you like matcha, green tea, or black tea or prefer caffeine-free herbal teas or rooibos, tea can make a wonderful addition to your favorite recipes. It can be a great alternative to liquid ingredients in most baked recipes. There's an excellent tea-infused recipe for baked goods regardless of your flavor profile. So, get your apron on, and bring out your freshly brewed tea or powdered matcha - your taste buds are in for a treat!